If you are based in Singapore and would like to contribute financially to the mission of Praxeis in Singapore or to the Urban Wheat Project, or as your registration for Asia Hub, please use one of the following two payment options. Please also be sure to indicate your name and project in the remarks field so it appears on our bank statement.
After the fund transfer, please drop us a note at [email protected] and write your name, the transfer date, the amount transferred, and the intended project.
This will allow us to acknowledge your gift and ensure it goes to the project(s) you want.
1. Paynow
Scan the QR code below or use our UEN: 201842360W.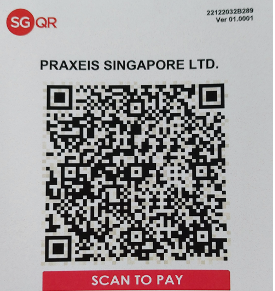 2. Bank Transfer
Beneficiary : Praxeis Singapore Limited
Bank : OCBC Bank, 65 Chulia St, OCBC Centre Branch, Singapore 049513
Swift Code: OCBCSGSG
Bank code : 7339
Branch code : First 3 digit of account number
Account :                      595163874001  for SGD
Thank you for partnering with us!